Flush Acoustic Interior Wood Door
Flush wood door is relatively simple with construction, and becomes an affordable option for many kinds of projects such as school design projects, large or budget hotel design project and office projects.
Flush wood door provides numerous options to affordably choose the style and creative vision for your project. Comparing with stile and rail, or panel doors, flush wood doors are with simplier construction and fewer options customization. It is, however, still attractive and on-brand, even offer certain advantages over panel doors.
Flush wood doors with solid core is strong enough to satisfy most requirement for durability and strength. And it is worth to mention that hollow core doors may provide less strength, which offer a light-weight and economic door alternative.
There are wide range of options for flush wood door when it comes to performance. Flush wood door with solid core infill can actually provide greater fire resistance and less sound transmission than panel doors. It is the filling core that makes all difference.
Flush wood door is typically cheaper than panel doors, but it can still look great. By selecting the right painting color, veneer species, cut, matching, color and stain, flush wood door can match seamlessly with the overall look and taste of your project.
Una Doors is able to provide 1 3/4" (45mm) thick solid core or hollow core factory finished flush wood doors for a variety of hospitality, commercial, multifamily and institutional applications, including office buildings, hotel and motel, schools, apartment building, hospitals, medical centers and more. Our flush wood door is pre-machined to accomodate most door hardware application, including look cutouts, hinge pockets, closer etc.
Flush wood door can be found in many commercial environments due to its simplicity and function. It is so named by its flat surfaces, flush wood door features a variety of filling core types and finishes. Flush wood door provides a variety of price level coming in many different wood material, dimension and veneer finishes. The construction of flush wood door makes it possible for specialty purpose like fire retardance and sound reduction with the adding special material by the manufacturer like us.
Flush wood door can help to add a modern and contemporary apperance to a space because of its simple and minimal design.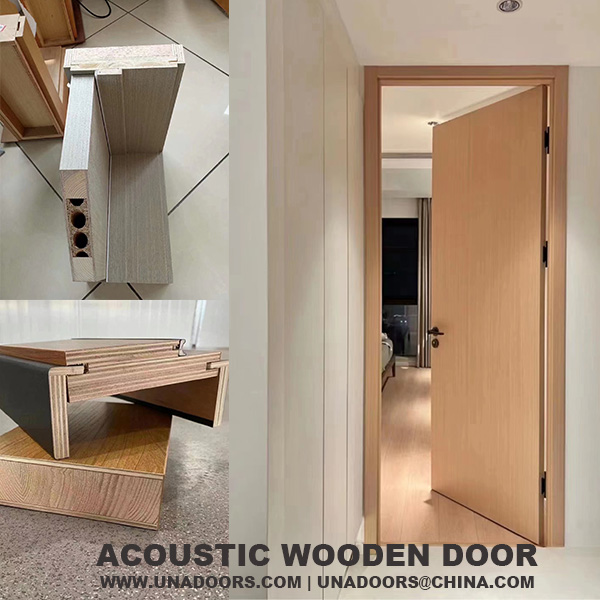 Soundproof interior door

Custom surface finishes and hardware preparation are available for this sound insulation door. The sound transmission control door can reduce the sound energy transfered through door opening.Following is STC rate for the reference of designer and architect.

STC20-25 Normal speech can be heard clearly
STC25-30 Loud speech is understandable and normal speech is barely heard
STC30-35 Loud speech heard, but not understandable
STC35-40 Loud speech sounds like a barely noticeable background noise
STC40-50 Loud speech hardly heard at all
STC50-60 Loud noises such as musical instruments are barely heard




Products Category
Contact Us
E-mail: [email protected]

Add: Donsheng Door Market ZhongShan City GuangDong Province China